Christine Greig
C-167 Capitol Building
D037 News / Committee / Bio - Christine Greig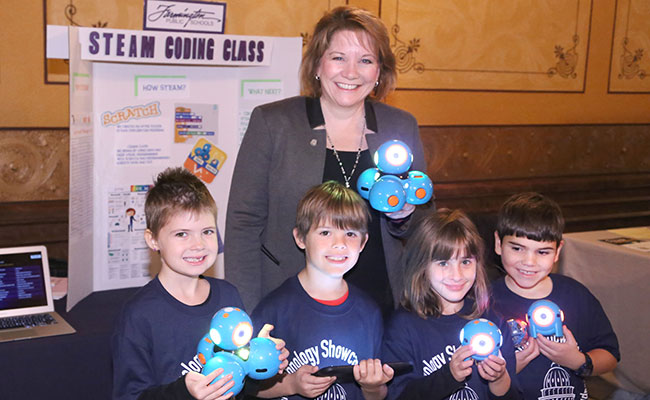 House Democratic Leader Christine Greig is in her third term representing Michigan's 37th District, which comprises Farmington and Farmington Hills. In her first term, Rep. Greig was accepted into the Bowhay Institute of Legislative Leadership Development program and served as an assistant floor leader and vice-chair of the Progressive Women's Caucus. In her second term, Rep. Greig served as the House Democratic floor leader and was a member on the Government Operations and House Fiscal Agency Governing Committees, as well as the Legislative Council.
Rep. Greig is focused on people-centered policies and an agenda that builds opportunities for all Michiganders by fixing the roads, making health care more affordable, cleaning the state's water and strengthening Michigan's public schools. Before coming to the House, Greig served as a founder and executive director of the Farmington/Farmington Hills Education Foundation. As the President of the Farmington Area PTA Council from 2007-2011, Greig expanded PTA membership by 40 percent and added eight new units to the council. She worked closely with local, county and state officials to address school funding inequities and parent engagement initiatives.
Rep. Greig brings more than 20 years of experience in the business community to the Legislature. She worked for Andersen Consulting (now Accenture) as a consultant and for Kmart Corp. before co-owning Fulcrum Computer Services in Farmington Hills. Greig worked with numerous Fortune 500 corporations and government agencies to design and implement promising technologies that would support complex business and employee relations operations — a skill she will put to use as a legislator.
Greig has actively served on several boards, including the Michigan PTA, Farmington/ Farmington Hills Education Foundation, Let America Vote and the Mathematics Pentathlon Institute. Her numerous awards and recognitions include 2017 Sander M. Levin Elected Official of the Year, 2018 College Democrats Legislator of the Year, 2018 MAME Outstanding Government Official, 2008 Michigan PTA Member of the Year, 2013 Farmington/Farmington Hills Commission on Youth and Families volunteer award, and the 2009 Southeastern Michigan Tennis Association Towler Leadership Award.
Rep. Greig earned a bachelor's degree in American studies and computer applications from the University of Notre Dame. She and her husband, Bob, have lived in Farmington Hills for 28 years and have three sons: Andy, Alex and Bill.
Government Operations - Democratic Vice Chair

House Fiscal Agency Governing Committee