Jon Hoadley
N-994 House Office Building
D060 News / Committee / Bio - Jon Hoadley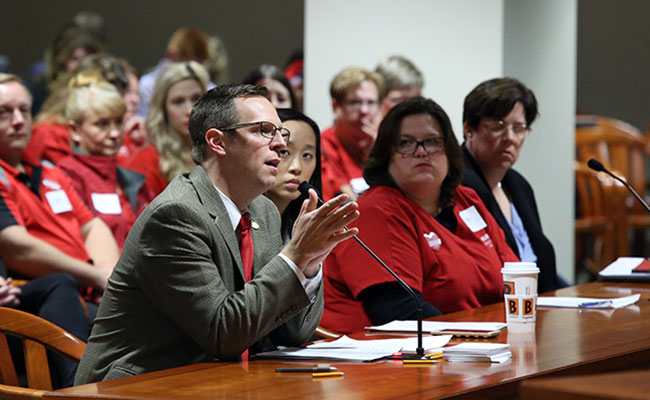 State Rep. Jon Hoadley is in his third term as the representative for the 60th House District, which includes Kalamazoo and portions of the city of Portage and Kalamazoo Township. He currently serves as the Democratic vice chair of the House Appropriations Committee, as well as the Democratic vice chair of the House Fiscal Agency Governing Committee. Rep. Hoadley also serves on the General Government, Health and Human Services, and Higher Education and Community Colleges Appropriations subcommittees.
Rep. Hoadley fights for a Michigan that invests in people. Rep. Hoadley is a leading voice in the fight for nonpartisan redistricting, reducing the influence of money in politics, and term limit reform. Additional priorities include increasing education funding, lowering student debt, raising wages for working people, paid sick leave, protecting the environment, and ending discrimination.
Rep. Hoadley is a small business owner and serves as president and owner of Badlands Strategies, a progressive public affairs firm. He has a track record of running ballot measures advancing LGBTQ equality and regularly consults on nondiscrimination campaigns across the country. Previously Hoadley has served as Executive Director of National Stonewall Democrats, worked for the Gill Action Fund and managed South Dakotans Against Discrimination.
In the community, Rep. Hoadley serves on the advisory committee to the National LGBTQ Task Force, the National Caucus of Environmental Legislators, the steering committee of the American State Legislators for Gun Violence Prevention, and volunteers at his church, First Congregational Church-United Church of Christ.
A graduate of Michigan State University, Hoadley lives in Kalamazoo with his partner, Kris, and the world's friendliest beagle, Benjamin.
In his second term, Rep. Hoadley served on the House Appropriations Committee, including the following subcommittees: Michigan Department of Agriculture and Rural Development (Democratic vice chair), Higher Education (Democratic vice chair), and the Michigan Department of Environmental Quality.
Appropriations - Democratic Vice Chair

House Fiscal Agency Governing Committee - Democratic Vice Chair

Appropriations subcommittee - General Government

Appropriations subcommittee - Health and Human Services

Appropriations subcommittee - Higher Education and Community Colleges