Rebekah Warren
S-989 House Office Building
D055 News / Committee / Bio - Rebekah Warren
Now serving her third term in the Michigan House of Representatives, Rebekah Warren is proud to represent the 55th House District, which includes the northern part of the city of Ann Arbor, the portion of the city of Milan that falls within Washtenaw County, and the townships of Ann Arbor, Augusta, Pittsfield, and York. 
A long-time resident of Ann Arbor, Warren was first elected to the Michigan House in 2006, where she represented the 53rd District for four years.  She also served two terms as the State Senator for the 18th District.  During her time in the Senate, she was the Democratic Vice Chair of the Natural Resources Committee, the Regulatory Reform Committee, the Michigan Competitiveness Committee, and the Economic Development and International Investment Committee.  She was also a member of the Senate Finance Committee, as well as the Mental Health and Wellness Commission, the Responsible Retirement Reform for Local Governments Task Force, the Healthcare Cost and Quality Advisory Committee, and the Commission on Human Trafficking and a Legislative Co-Chair of the annual "Let's End Campus Sexual Assault" Summits.  Additionally, she was appointed to represent Michigan on the prestigious Great Lakes Commission. Prior to her work as a lawmaker, Warren served as executive director of a statewide women's health care nonprofit for seven years.
This term, her legislative priorities include expanding access to quality health care, investing in education, strengthening our economy and bringing good-paying jobs to Michigan, defending our civil rights and liberties, and preserving our precious natural resources.  Known for her ability to reach across the aisle and negotiate, Warren has consistently found a way to pass critical legislation without compromising our values. A small selection of her accomplishments includes advancing health care parity laws, shepherding the passage of legislation to require health insurance providers to cover the diagnosis and treatment of autism spectrum disorders, establishing a licensure program for the practice of applied behavioral analysis, and championing the legislation that enshrined a woman's right to breastfeed her child anywhere that she is legally allowed to be. 
Warren firmly believes that Michigan stands at a critical juncture in our history. She is honored to serve the citizens of our great state and looks forward to continuing to work with her colleagues and constituents to ensure it remains an exceptional place to live, work and build a family.
Ways and Means - Democratic Vice Chair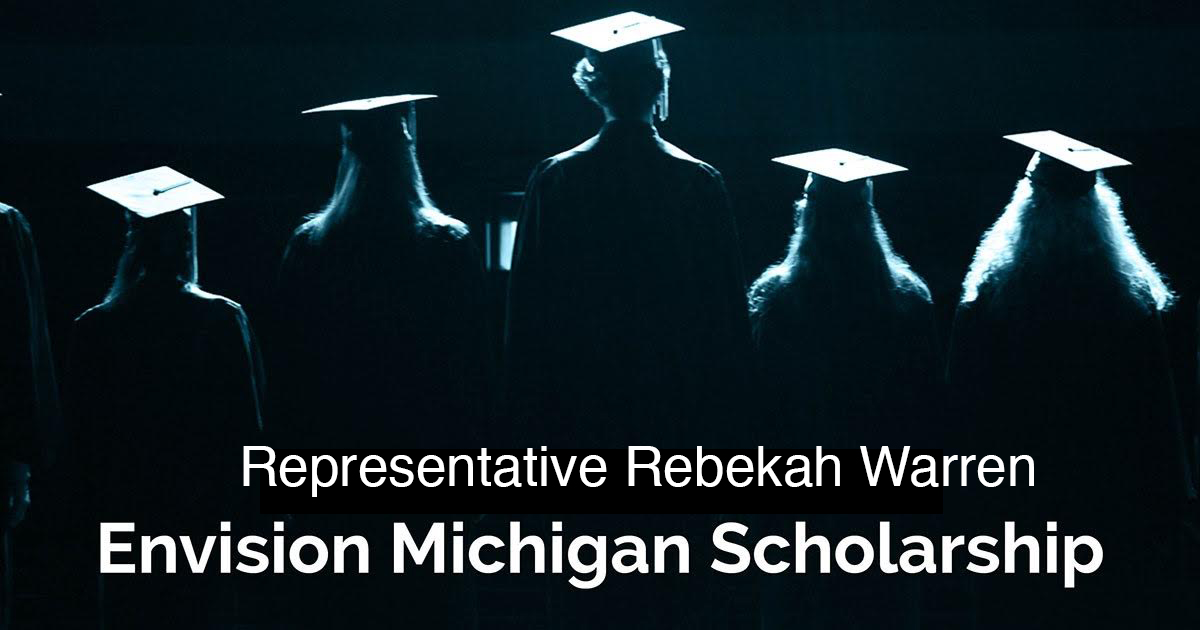 After her election to state office in 2006, Representative Rebekah Warren created the Rebekah Warren Envision Michigan Fund in order to better promote progressive policies, educational opportunities and active citizenship in our state.  In an effort to support young people who want to help lead Michigan to a stronger and more vibrant tomorrow, she is awarding a $1,000 "Envision Michigan Scholarship" to at least two graduating high school seniors who currently reside in the 55th State House District and plan to attend a university, college, technical or trade school.
Anyone who knows a qualifying student is encouraged to nominate him or her for the scholarship by submitting the form available below no later than Friday, April 24th, 2020.
It is not necessary for a student to be nominated in order to be considered for the scholarship; any student who meets the requirements may apply using the application form available below. Completed applications (including a response to the essay question) must be submitted by, May 22nd, 2020. 
If you are unsure whether a student lives in the 55th District, you may find the online "Find A Representative" tool helpful.
Nomination Form - Application Form